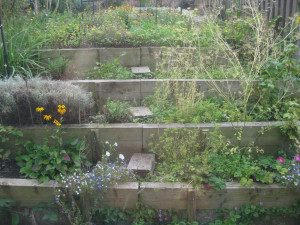 If you have a steep garden, terracing is a great way to make your garden more attractive and useful.
Realistically, if your garden has too extreme a gradient, you're not going to be able to run trains up them without serious problems. While you may have to make some compromises on your layout with a terraced garden, it's better than the alternative of not doing it at all!
As these things tend to be, it can sometimes seem an intimidating project to start, especially with no previous experience. It can be useful to browse the Internet for some inspiration and see what others have done with their gardens – especially if they've managed to incorporate a railway.
As well as making your garden look more attractive, terracing stops rain water washing all of the soil and nutrients to the end of the garden, and allowing more than weeds to grow.
Terracing can allow you to separate more than one railway line from eachother, perhaps with different plants in each area to add extra interest.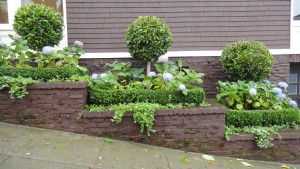 Depending on your timescale and budget, there are a few different options for achieving this. The more long term – though unfortunately tending to be the most expensive – is to use stone walls. You could also use wood, but you'll be doing more ongoing maintenance.
Make no mistake, this is a serious project in terms of time – and you'll be amazed by how much earth needs to be dug up. It may be worth speaking to a professional landscape gardner – even if just for an initial consultation and assistance with planning things. Their fee may end up saving you time and money in the long term!
Images by Lynn Friedman and Elanor Martin.